Boeing, SpaceX Win $900 Million in Awards for Spacecraft
Brendan McGarryAug 03, 2012 2:04 pm ET
(Updates with professor's comment, Alliant loss and NASA press conference beginning in third paragraph.) Aug. 3 (Bloomberg) -- Boeing Co. and Space Exploration Technologies Corp. won $900 million in contracts from NASA to develop spacecraft capable of carrying astronauts, the agency said. Boeing received a $460 million award, the National Aeronautics and Space Administration said in a press release today. SpaceX, led by billionaire Elon Musk, got a $440 million agreement, and Sierra Nevada Corp. won $213 million.
Two of the companies will probably be picked to build the vehicles to transport crew to the International Space Station, said John Logsdon, a professor and founder of George Washington University's Space Policy Institute. "This is an important step," he said in an interview. "These are the substitutes for the shuttle." Alliant Techsystems Inc., based in Arlington, Virginia, was among the companies that lost bids. The U.S. retired its shuttle fleet last year and relies on countries such as Russia to ferry astronauts and supplies to the space station. The administration wants the private sector to take over those jobs so NASA can focus on missions to asteroids and Mars.
Russian Rides
NASA pays about $63 million per seat on Russian Soyuz spacecraft.
"We're in this kind of embarrassing situation of depending on Russia for crew transportation," Logsdon said. "These systems are the way out of that."
The latest funding is the third and final phase of a program to design and develop the privately operated vehicles. Excluding the funding announced today, NASA has awarded $365 million since 2009 for work under its commercial crew program.
"We have selected three companies that will help keep us on track to end the outsourcing of human spaceflight and create high-paying jobs in Florida and elsewhere across the country," NASA Administrator Charles Bolden said during a press briefing at Kennedy Space Center in Cape Canaveral, Florida. Boeing, based in Chicago, has about 250 employees working on the program in Texas, California and Florida, mostly in Houston, Paula Korn, a company spokeswoman, said in an e-mail. With the new funding, Boeing sees that figure increasing to about 350 in 2012 and to about 450 in 2013, she said.
After the system shifts from design to production in 2015 or 2016, the company expects to have about 550 employees at Kennedy Space Center, Korn said.
Both Boeing and Hawthorne, California-based SpaceX are developing bullet-shaped capsules that launch atop rockets and are capable of carrying seven astronauts. Sierra Nevada, based in Sparks, Nevada, is building a shuttle-like vehicle that is lifted by a rocket and lands like an airplane.
SpaceX expects its first manned flight in 2015, two years before NASA plans to begin regular manned missions to the space station using commercial craft.
The company on May 25 became the first to dock a private unmanned ship with the station. SpaceX and Orbital Sciences Corp., based in Dulles, Virginia, have won $3.5 billion in NASA awards as part of a separate program to deliver cargo to the station.
Losing Bidders
Seven companies competed for the latest round of funding, William Gerstenmaier, associate administrator for NASA's human exploration and operations directorate, said today during a separate press conference. The four losing bidders were Alliant, Space Operations Inc., American Aerospace Corp. and Space Design Inc., he said.
"The stronger proposals were really the three we talked about," he said.
George Torres, a spokesman for Alliant Techsystems, said in an e-mail that the company was "disappointed" it wasn't selected. It teamed up with Lockheed Martin Corp. and a unit of European Aeronautic Defence and Space Co. to develop a rocket called Liberty to compete for U.S. business.
Torres said "it's too early" to say whether the company will seek to challenge the decision.
--Editors: Stephanie Stoughton, Joe Winski
---
Private Spaceflight: Up, Up, and Away

This year, commercial spaceflight will really take off
By James Oberg / January 2012
The 20th of February, 2012, will be the 50th anniversary of the first U.S. orbital manned spaceflight. To mark the occasion, retired pilot Craig Russell had an over-the-top idea: Reenact astronaut John Glenn's mission, but do it with private funding and off-the-shelf technologies.
Ultimately, a lack of funding killed Russell's dream, but don't lose heart. Truth is, if you've got a more practical reason for putting a person in space, there's never been a better time to try. Over the last decade, a broad advance in the commercial availability of aerospace technologies has allowed small private entities to attempt feats that once had been the monopoly of major governments.
In 2012 privately funded human spaceflight will advance from promises and one-off stunts to serious flight-testing of spaceships. Governments will be the biggest customers, with unmanned systems possibly docking with the International Space Station (ISS) this year and perhaps eventually taking the place of the retired U.S. space shuttles. Meanwhile, spacecraft designed to give well-heeled tourists a thrill will be firing up their rockets, letting their passengers enjoy a few minutes of weightlessness, and gliding in for landings.
Indeed, this could be the year that spaceflight moves beyond the 1960s inspirational phrase "man in space" toward a more inclusive one: "Any man or woman in space." In spaceflight, as in many other fields, there's an advantage to being first. Virgin Galactic has that advantage. Its SpaceShipTwo is the roomier follow-up to the craft that won the Ansari X-Prize in 2004 for crossing the legal boundary of space (100 kilometers). The British company has already sold nearly 500 tickets at US $200 000 apiece, and it opened a spaceport this past October in New Mexico. In 2012, "our hope, our plan, is to do powered flight tests, and if things go well, we have a shot of getting into space," says CEO George T. Whitesides. Using the large WhiteKnightTwo aircraft as a carrier, the rocket plane has already begun unpowered drop tests from its development base in Mojave, Calif. And it recently concluded ground-based engine burns that were nearly long enough to put a vehicle into space. Full-duration burns will last between 60 and 70 seconds during an ascent that involves a little less than 4 g's of acceleration. Actual test flights will be made in small steps, Whitesides says. Turning the engine on and off will be a first step, followed by a 10-second burn, a 20-second burn, and so forth. When asked how many test flights there would be before the first tourists fly, he laughed, saying, "As many as you need." The other tourist spaceship that is expected to get airborne in 2012 is the Lynx rocket plane from Xcor Aerospace, in Mojave. Its concept is less grandiose than SpaceShipTwo's, with a single passenger sitting in a cockpit next to a single pilot and with initial flights to altitudes of just over 60 kilometers. Company spokesman Mike Massee says the rocket plane's propulsion system was designed for speedy testing and will eventually allow for two flights per day using a single ground crew.
---
U.S. COMPANY RESPONDS TO CHINESE "ORBITAL MILITARY OUTPOST"
HUNTSVILLE, Ala., June 19, 2012 /PRNewswire/ -- Chinese Air Force Officers are now conducting military operations in orbit. "The space program, including ostensible civil projects, supports China's growing ability to deny or degrade the space assets of potential adversaries and enhances China's conventional military capabilities," Army Lt. Gen. Ronald Burgess, director of the Defense Intelligence Agency, wrote in testimony presented before the U.S. Senate's Armed Services Committee Feb. 16. Recently, NASA Administrator Charles Bolden stated that the country needs to have "a U.S.-based, commercial crew launch capability at the earliest possible time."
Space Operations, Inc. (SpaceOps) has formed a team of highly motivated aerospace companies for this purpose. The three companies involved with the effort are WestWind Technologies, Inc., Advanced Solutions, Inc., and Southern Aerospace Company. SpaceOps, will use the technology developed on the Gemini Program to be the basis for the 21st century, two-seat, ECLIPSE spacecraft. "Since this is an existing and proven design we could begin construction six to eight weeks after funding and complete a flying prototype ten to thirteen months later," said WestWind President Bill Jolly. U.S. built rocket boosters are currently available and could launch the ECLIPSE plus a significant amount of cargo into orbit.
Other U.S. companies, involved with crew orbital spacecraft development, have announced that they will not attempt launching a crew before 2017. "The military and political consequences may be serious if we don't launch much earlier," said SpaceOps CEO Craig Russell. "We agree with Administrator Bolden and other space experts that our country needs to have this capability as soon as possible. Our policymakers and military leaders should work together to fund this critical and very cost effective program immediately."
About Space Operations, Inc.: Space Operations, Inc. (SpaceOps) is a crew/cargo orbital mission contracting firm. SpaceOps is located in Madison Alabama and is near NASA's Marshall Space Flight Center and the U.S. Space and Rocket Center.
For more information go to www.spaceoperationsinc.com Contact: Craig Russell 256-653-7759 Email: bcrussell@spaceoperationsllc.com
---
SPACE OPS BOARD MEMEBER AL REISZ RECEIVES AIAA 2011 HERMANN OBERTH AWARD
HONOREE FOR 2010-2011: Aloysius "Al" Reisz
Mr. Reisz has over thirty years experience in the engineering of aerospace and industrialsystems as President of Reisz Engineers. He has provided engineering design,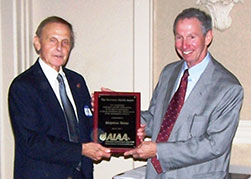 development and consulting services to industrial corporations and government agencies. The government agencies include NASA, The Tennessee Valley Authority, the US Army Corps of Engineers, the US Army Missile Command, the US Department of Interior, and the Southern Naval Facilities Command. Mr. Reisz has engineered, consulted and served in an advisory capacity on projects that include the International Space Station, missile systems, power plants, airports and industrial processes. His industrial clients have been in the automotive, aerospace, and chemical sectors. He currently is managing the Reisz Engineers effort in designing, developing and testing an improved in-space electric propulsion system. This project was recently a NASA Phase I and Phase II Small Business Technology Transfer Research program with the University of Michigan. The Reisz Engineers – University of Michigan team recently received recognition from NASA for the high-quality research in developing and delivering this experimental propulsion system. The North Alabama Section of the American Society of Mechanical Engineers recognized this electron cyclotron resonance engine for the Mechanical Engineering Achievement Award for 2008.
---
SPACE OPERATIONS, INC. ANNOUNCES FIRST ORBITAL MANNED COMMERCIAL SPACECRAFT OPERATIONAL BY 2012
"Eclipse" Spacecraft another milestone for America's Rocket City
HUNTSVILLE, Alabama (February 16, 2011) – Space Operations, Inc. announced plans today to build a two-seat manned orbital spacecraft for commercial and government use. The company plans a test launch on Febuary 20, 2012, with a regular flight schedule beginning in late 2012 or early 2013.
The Eclipse spacecraft will utilize the highly successful legacy Gemini technology that was developed by NASA to allow SOI to bring this product to market in a very short time frame. "We will incorporate modern materials and the latest proven technologies into the design to improve performance. This design was flown successfully 13 times back in the sixties, 10 of those missions were manned," said James Hopkins, company CTO.
"The technology will allow for making land recoveries and quick refurbishment of the capsule for reuse in future missions," said Hopkins. In addition to the crew, the Eclipse will be able to carry up to 10,000 pounds of cargo into orbit. The company will utilize the services of other commercial rocket manufacturers to launch the spacecraft.
"America needs a manned space flight capability based here in the U.S. now, not in four or five years," said Craig Russell, company CEO. A former Air Force pilot and retired airline pilot, Russell has been developing the business model for five years. "We identified the prime contractor and sub-contractors to build the vehicle last year.
The company will use the spacecraft to service different sectors in the orbital space market including satellite servicing and repair, satellite deployment, space tourism, space station construction/re-supply, and space debris de-orbit.
The company is seeking investors who are interested in commercial orbital space flight as well as individuals and businesses who will purchase seats on the first few flights. "The purpose of the first few missions will depend on who is first to put a deposit on the seats," said Gattis. "We are going to space in 2012, and we're looking for others to go with us."
About Space Operations, Inc.: Space Operations Inc. (SOI) is located in Madison, Alabama near NASA's Marshall Space Flight Center and the U.S. Space and Rocket Center. For more information visit their website at www.SpaceOperationsInc.com
---